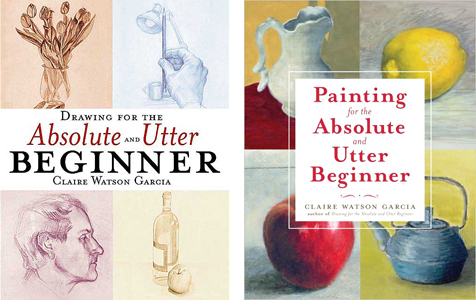 Drawing for the Absolute and Utter Beginner, Watson-Guptill, 2003  and Painting for the Absolute and Utter Beginner, Random House, 2006  are available at major booksellers as well as independent booksellers, in the United States, and internationally. Drawing for the Absolute and Utter Beginner has been translated into Italian, Polish, Russian, Russian, Mandarin, and Czech.
Working in the studio classroom at Silvermine Art School, I tested teaching methods with real beginners for over 20 years, watching to see what worked, and incorporating new information into the original method. It seemed natural to share this material with more beginners than I could reach in the studio classrooms, so they could have the benefit of methods that work and information that would help them develop and enjoy their art.
My books are co-creations with the students I teach. We all contributed art work. And the text is supplemented with quotes from beginners. Learning from a book is more challenging when you work alone. Verbal feedback and artwork from beginners at the users' own level, working from the same material they are using, provides support as well as a realistic idea of what's possible. My books are used as tools for teachers, supplements for people taking courses, and resources for those who can't get to teachers and classrooms.
The visual arts are a form of language. Foundations skills, such as the ones I teach or write about in my books, form the vocabulary that allows people to express and think in ways they can't do using words alone, in fact, to access parts of their brain that we don't access that actively otherwise. It opens the door to a world where using our visual sense becomes even more pleasurable. Whether we're looking at nature, or art in galleries and museums, we begin to see with what one of my students described as "new eyes".